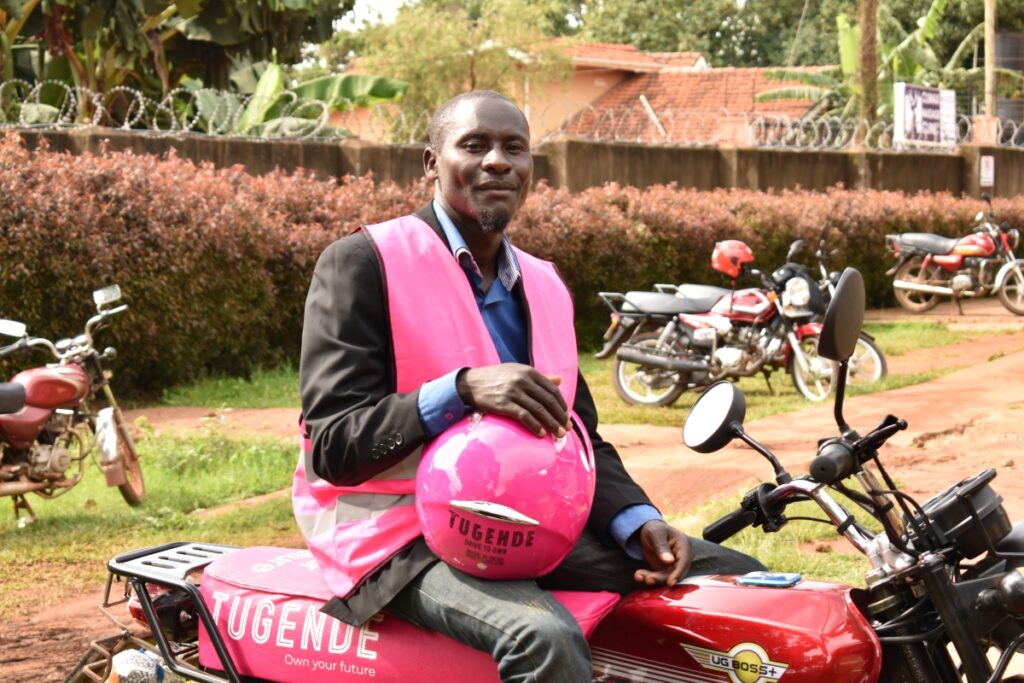 Tugende, a leading fintech lender specializing in asset finance in Uganda and Kenya, has closed $17M in new debt capital at the end of 2021, supporting strong end of year growth and expansion runway for 2022.
The new investments include a $5M local currency facility for Uganda from Nordic Microfinance Initiative (NMI), $6M from existing lender Symbiotics, and $1M from crowdfunding platform Lendahand, all to support growth in Uganda. In addition, Tugende received $5M from innovative lending platform Goldfinch for its Kenya operations to fuel scale up in this 2nd market where it already has 5 branches. The capital will help meet Tugende's continued intense customer demand and waiting lists, and also support further technology driven innovation to serve clients far beyond one asset being financed.
"NMI are proud to be partnering with a game-changer like Tugende, whose innovative model gives people more control over their own financial future," said Arthur Sletteberg, Managing Director of NMI, commenting on the deal. "Tugende lead the market in going beyond just providing an asset, and in addition give customers the tools and support they need to succeed in the long-term. Tugende's initiatives around environmental sustainability are also commendable, and we are eagerly following the developments in their e-mobility products."
Tugende's core product is a lease-to-own package for boda boda (motorbike taxi) drivers. Over 54,000 customers have benefited so far from Tugende's financing package which includes road safety and financial training, medical and life insurance, safety equipment, driving permits, hands-on support through the journey to ownership. Ownership doubles the typical client's daily profits, and Tugende clients also build a digital credit profile and score as they own their asset, unlocking new opportunities as their businesses grow, and Tugende has been diversifying into new asset product lines both in mobility and non-mobility segments.
"It's a pleasure to renew and expand our investment in Tugende," said Felipe Martin, Senior Investment Analyst at Symbiotics, which increased its investment in Tugende with a fresh $3M in addition to renewing its first $3M loan. "Symbiotics first invested in 2019 and has been impressed by Tugende's growth, resilience, and rapid advances using technology, despite the challenges of Covid-19."
More than 800 full time Tugende staff currently work across 23 branches in Uganda and 5 in Kenya. Along with their high-touch human approach, accessible digital solutions also play a crucial role for Tugende to effectively serve customers, including those in rural areas. Beyond motorcycles, Tugende is currently serving small business borrowers with asset finance packages including vehicles, boat engines, and equipment for retail shops.
About NMI
Established in 2008 in Oslo, Norway, as a public-private partnership, NMI invests in and supports institutions providing financial inclusion to poor people in developing countries. Both positive social impact and sustainable financial returns are targeted, and investors include the Norwegian and Danish governmental funds for developing countries (Norfund and IFU) and private financial institutions including DNB Livsforsikring, Ferd, KLP, Lauritzen Fonden, PBU, Storebrand, TD Veen and Koldingvej 2, Billund A/S.
Our investment philosophy is based on active and long-term partnerships. We take board positions and work actively to support growth and professionalization. Furthermore, our Technical Assistance (TA), funded by the Norwegian development agency Norad, supports projects to build institutional and human capacity at the investees
About Symbiotics
Symbiotics is the leading market access platform for impact investing, dedicated to financing micro- small and medium enterprises and low- and middle-income households in emerging and frontier markets. Since 2005, Symbiotics has structured and originated some 5,000 deals for over 490 companies in almost 90 emerging and frontier markets representing more than USD 7.5 billion. These investments have been purchased by more than 25 fund mandates and more than 50 third party specialized fund managers, forming a growing ecosystem and marketplace for such transactions.
About Goldfinch
Goldfinch is a decentralized credit platform expanding access to capital and empowering financial inclusion. Starting with supporting lending businesses in emerging markets, the Goldfinch Protocol is reducing the inefficiencies of traditional finance and enabling more capital to flow into underserved markets.
About Lendahand
Lendahand is the world's #1 crowdfunding platform for impact investing. EU and UK residents can invest in proven entrepreneurs across the world starting with just €50.
About Tugende
Founded in 2012, Tugende uses asset finance, technology, and a high-touch customer support model to help Micro, Small, and Medium-sized Enterprises (MSMEs) own income-generating assets. Tugende's core product is a lease-to-own/hire-purchase package for motorcycle taxi drivers in Uganda and Kenya. The package includes training, medical and life insurance, safety equipment and hands on support through the journey to ownership. Tugende has served over 54,000 clients with more than 23,000 already achieving full ownership of at least one asset. With 800+ employees, Tugende is growing geographically and has also added new productive asset finance products including vehicles, boat engines, and equipment for retail shops.
A for-profit social enterprise, Tugende has been recognised for its social impact by numerous awards and partners including the Unreasonable Institute, Echoing Green, The Zambezi Prize for Financial Inclusion, Shell Foundation, GSBI – Miller Center for Social Entrepreneurship, and Yunus Social Business.
Tugende has also raised more than USD 30M in debt capital to fuel its portfolio. Current debt partners include NMI, Blue Earth Capital, Goldfinch, U.S. Development Finance Corporation, Symbiotics, Frankfurt School Financial Services, Agora, Global Social Impact Fund, and Oikocredit.