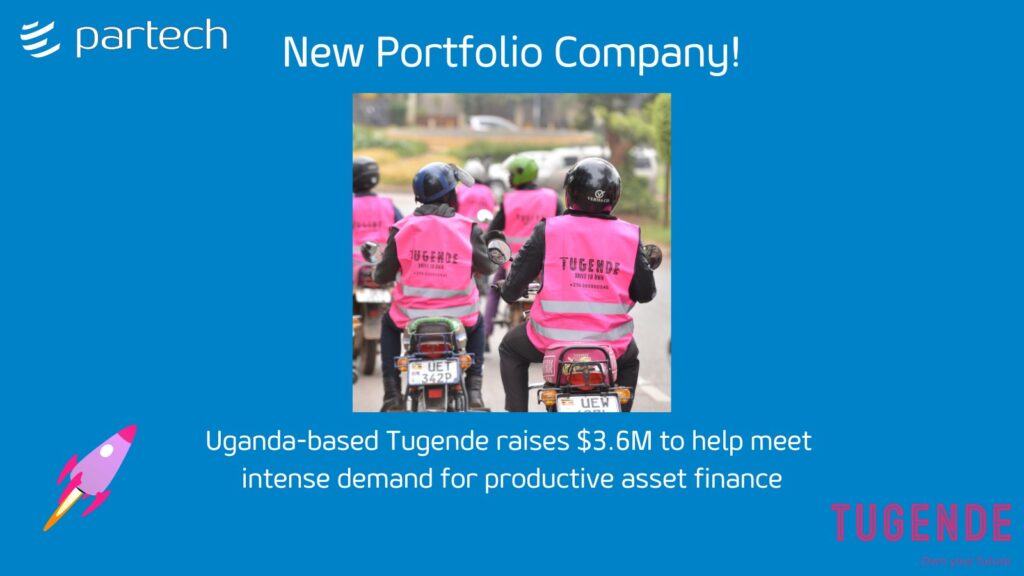 March 31, 2021, Kampala – Tugende, a technology enabled asset finance company in East Africa has closed $3.6M in additional equity financing. The round was led by Partech, with participation from Enza Capital and regionally based angel investors. The investment, which was agreed and structured in 2020, is an extension of Tugende's Series A, for which the first close was announced in September 2020, and led by Toyota Tsusho's Mobility 54. This brings the total amount of equity capital raised for the Series A to $9.9M. The new funding will be deployed immediately by Tugende to keep up with its intense organic word of mouth demand and will support closure of new debt capital to fuel Tugende's strong portfolio growth in Uganda and Kenya.

Based in Kampala, Uganda, and launched in 2012, Tugende uses asset finance, technology, and a high touch customer support model to help micro, small and medium enterprises (MSMEs) own income-generating assets. Tugende is tackling the USD 331 billion credit gap MSMEs face across Africa.

Tugende serves more than 43,000 clients across Kenya and Uganda. Its core asset finance packages include medical and life insurance, training, safety equipment and digital credit profiles in addition to affordable asset financing for SMEs. In addition to its first product of motorcycle taxis, Tugende has broadened the productive assets it finances to boat engines, cars, refrigerators and other income generating equipment and is also currently piloting financing for e-mobility assets. All payments are digital and Tugende provides proprietary credit scores automatically to all clients to help them monitor their performance and unlock new opportunities like discounts and new products.

Despite COVID-related challenges in 2020, Tugende is executing on a strong, economically sustainable growth path with consistent organic demand driving the expansion. Excluding 2020, Tugende has more than doubled its portfolio every year since 2012 and currently has over 500 full time staff, with ongoing recruitment for many new roles. Tugende has 20 branches in Uganda and 4 in Kenya, of which 6 opened in Q1 2021 following strong recovery by Tugende and its clients from COVID-19 related challenges in 2020. 

By increasing its geographical and asset product diversification, as well as creating a further digital ecosystem for growing SMEs and their households, Tugende aims to ensure millions of self-driven SMEs can dramatically increase their household wealth, economic stability and keep building a better future for their families.
"Last year, in the middle of the pandemic, we decided to invest in Tugende", said Tidjane Deme, Partner, Partech. "Tugende combines technology and strong operations to aid millions of professionals grow their businesses and drive economies forward. We will support Michael and his team to build up the tech platform, fine-tune the model and expand in new markets."

"Tugende has a demonstrated ability to unlock sustained entrepreneurial activity through its productive asset financing business for informal sector entrepreneurs", added Mike Mompi, Partner, Enza Capital. "We are particularly enthused by the Team's innovative application of technology, which incorporates a range of social considerations to build a new type of credit score, and which will increase access to capital across a range of African markets where entrepreneurs currently have limited credit history or access to collateral. We are delighted to be backing the Tugende business and exceptional team through this rapid phase of growth."

"It's an honor to bring on board additional top caliber investors," said Michael Wilkerson, Tugende's CEO. "Both Partech and Enza have great records of partnering with their investees to drive strong growth, particularly by accelerating technology and innovation and we are thrilled to be working together as we continue our journey."

About Tugende
Founded in 2012, Tugende uses asset finance, technology, and a high-touch customer support model to help Micro, Small, and Medium-sized Enterprises (MSMEs) own income-generating assets. Tugende's core product is a lease-to-own/hire-purchase package for motorcycle taxi drivers in Uganda and Kenya. The package includes training, medical and life insurance, safety equipment and hands on support through the journey to ownership. Tugende has served over 43,000 clients with more than 16,000 already achieving full ownership of at least one asset. With 520+ employees, Tugende recently expanded to Kenya and in addition to planning further geographical growth has also added new productive asset finance products including vehicles, boat engines, and equipment for retail shops.
A for-profit social enterprise, Tugende has been recognised for its social impact by numerous awards and partners including the Unreasonable Institute, Echoing Green, The Zambezi Prize for Financial Inclusion, Shell Foundation, GSBI – Miller Center for Social Entrepreneurship, and Yunus Social Business.

Tugende has also raised more than USD 20M in debt capital to grow its portfolio. Current debt partners include Partners Group Impact Investments, U.S. Development Finance Corporation, Symbiotics, Frankfurt School Financial Services, Agora, Yunus Social Business, Global Social Impact Fund, and Oikocredit.
Find out more: gotugende.com
For media enquiries:
Solomon Zacharia, [email protected]
About Partech
Born in San Francisco and Paris, Partech is one of the most active VCs in the world, bringing together capital, operational experience and strategic support for entrepreneurs at seed, venture and growth stages. In 2020, Partech invested in 82 startups across 24 countries in Europe, America, Africa and Asia.
For media enquiries:
Isabelle Tresson, [email protected]

About Enza
Enza Capital is an early-stage VC backing founders and teams using technology to solve large and meaningful problems across Africa. Launched in 2019 with headquarters in Nairobi, Kenya, Enza has backed 13 African tech companies to date across Kenya, Uganda, Nigeria, Ghana, and South Africa.
For media enquiries:
Mike Mompi, [email protected]