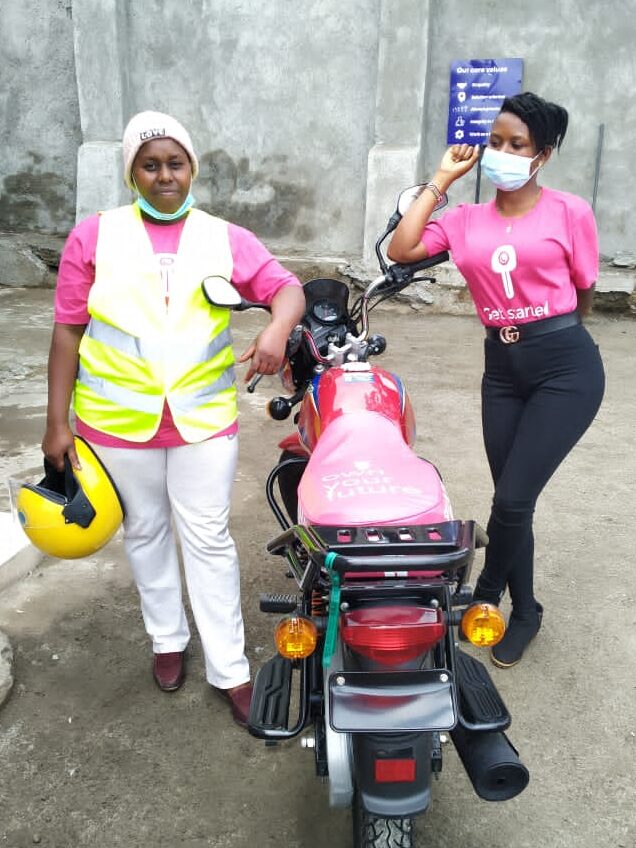 15 June 2022, Kampala, Uganda.
Tugende, the East African fintech platform providing asset financing and digital services to small businesses, is pleased to announce it has raised a pre-Series B investment round. The round, agreed in March and announced publicly today, was led by current shareholder Partech Africa. Existing investors including Mobility 54, Enza and Global Partnerships participated, and were joined by strong new partners including global financial inclusion fund Women's World Banking Capital Partners II (WWBCP II).
"We're excited to join Tugende's journey" said CJ Juhasz, Chief Investment Officer of Women's World Banking Asset Management. "Tugende is a leader in reaching and de-risking underserved individuals and businesses for financial services to grow and create jobs. Women's World Banking is dedicated to economic empowerment and we are particularly keen on investing at the intersection of mobility and finance, as the empowerment potential for individuals, especially women, is multiplied. Tugende's leadership is visionary, cares deeply about its mission, and brings the experience to achieve its ambitious plans. We look forward to teaming up with Tugende as it drives financial inclusion pan-Africa and increases the number of women served in its business ecosystem."
The additional equity capital will allow Tugende to sustain its growth momentum, continue the roll-out of digital-first products and to deepen its offering to new and repeat customers and their communities. The investment, structured in Q1 2022, further improves Tugende's balance sheet and stakeholder base in advance of an upcoming Series B round. Previously, Tugende closed $9.9M of Series A funding in late 2020 and early 2021, led by Mobility 54 and Partech Africa, with additional participation from Global Partnerships, Enza Capital and numerous angels.
Tugende has rebounded strongly from Covid-19 related lockdowns in Uganda and Kenya, launching new products and locations, and winning both the Inclusive Fintech 50 award in 2021 and the 2022 Financial Inclusion Award at the African Bankers Awards in recognition of its deep social impact and support for clients and staff during the worst of Covid's economic shocks.
"Tugende is committed to innovation and partnerships that remove barriers for people and businesses to build better futures," said Tugende CEO Michael Wilkerson. "With partners such as WWB on board, Tugende will benefit from the added expertise in delivering Tugende's Gender Action Plan and activating more Women entrepreneurs in Tugende's Ecosystem.
Tugende received financial advisory support from Verdant Capital and legal support from Bowmans.
About Women's World Banking Asset Management
Women's World Banking Asset Management ("WAM") invests in innovative inclusive finance companies in the emerging markets, guiding them to capture the substantial market share of financially under-served women and the substantial talent pool of women staff and leaders. WAM's first Fund was a pioneer of gender-focused impact investing in inclusive financial service providers. WWBCP II expands the gender-focused investment strategy in innovative financial service providers, with a dedicated technical assistance facility to help portfolio companies achieve strategic objectives toward gender inclusion.
About Tugende
Founded in 2012, Tugende uses asset finance, technology, and a high-touch customer support model to help Micro, Small, and Medium-sized Enterprises (MSMEs) own income-generating assets. Tugende's proven model enables informal entrepreneurs in Africa to: 1) own income‑generating assets, 2) build a verifiable digital credit profile, and 3) unlock future opportunities including discounts, smartphones, e-commerce opportunities, and on-demand credit lines.
Tugende has served over 55,000 clients and currently with 900+ employees, Tugende is growing geographically with 23 branches in Uganda and 10 in Kenya. Tugende's core products include motorcycles, 3-wheelers, mini-buses, cars, refrigerators, boat engines and other business assets, all for income generating use. All packages include product and medical and life insurance, safety equipment, ongoing support, and a digital credit profile which enables successful clients and their communities to earn new opportunities like top-up loans and enhanced insurance.